CONRAD'S Restaurant & Alehouse and CONRAD'S Local Kitchen & Patio are everyday local neighborhood eating and drinking establishments that focus on their made to order – scratch kitchen, craft cocktails, wine & American craft beer, with an emphasis on their local community.
CONRAD'S brings great made to order food with a wide variety of chef-driven options for lunch and dinner in a scratch kitchen. We have an incredible Happy Hour that includes discounted drafts, half-price wine and specialty craft cocktails. We feature American craft beer with an emphasis on local & regional breweries. CONRAD'S has a diverse wine list, and several specialty craft cocktails on their drink menu. We open at eleven a.m. for lunch with great daily lunch specials and feature our Seasonal Menu with our Chef created specials. The kitchen stays open until nine during the week and ten on Friday & Saturday nights.

Our mission at CONRAD'S is to consistently surpass the expectations of our guests through the quality of food and beverages, and to offer an experience in a safe and comfortable atmosphere that is focused on being a contributing and supportive member of our local community. #EatDrinkLocal

CONRAD'S EatDrinkLocal was founded in 2011 by Shawn Barber and Victor Barber and has been serving the Kansas City Northland for over twenty-two years.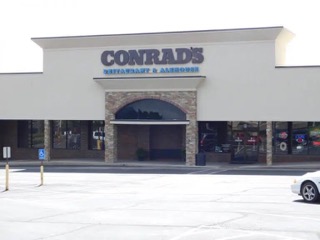 Whether you're looking for more information, or you would like to let us know how we did, you'll find easy ways to contact us right here. If you want to contact us using our website for.