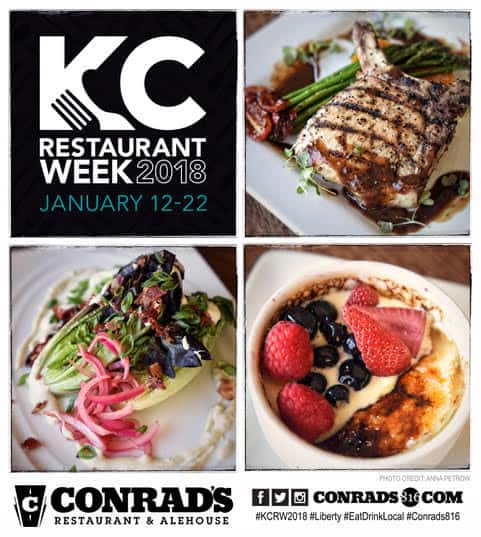 Kansas City Restaurant Week 2018 – January 12th thru 22nd
Restaurant Week features an array of restaurant participants so that diners can visit old favorites and also try the many new restaurants that have opened recently in the Kansas City metro area. Specially priced lunch and dinner menus are offered for fixed prices.
CONRAD'S Restaurant & Alehouse is participating once again in Kansas City Restaurant Week Jan 12-22. Show some local love and make CONRAD'S one of your stops this year. Check out our delicious Restaurant Week Menu below.
#KCRW2018 #Liberty #EatDrinkLocal #Conrads816
10% of Food Sales goes to the following non-profits:
Artisan Romaine with Bacon • Roasted Tomatoes • Pickled Red Onion and a Bleu Cheese Fondue
Moose Drool Brown Ale Braised Beef • Roasted Garlic & Herb Cheese, Pickled Onions • Mushrooms & Roasted Red Peppers
Artisan Romaine w/ Bacon • Roasted Tomatoes • Pickled Red Onion and a Bleu Cheese Fondue
Grilled Duroc Chop w/ Stockyard's Brewing Rye Porter Demi • Sweet Potato Pave & Asparagus
Crown Royal Vanilla Crème Brulee w/ Macerated Berries