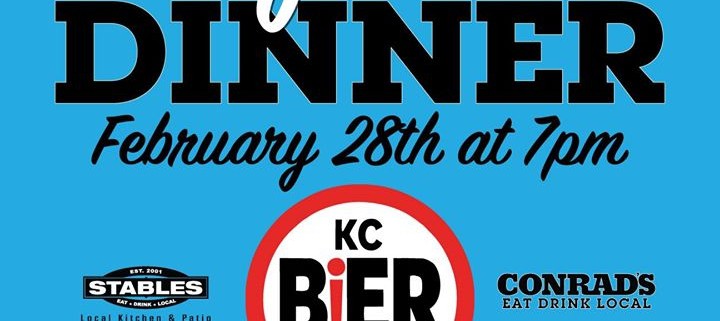 True816 Brands are proud to announce our next Craft Beer Dinner with our friends at KC Bier Company and North Kansas City Beverage, February 28th, 2019 in CONRAD'S Liberty Room. Tickets are on sale now for only $50 plus taxes and fees. Limited seating for this event so reserve your seat today #EatDrinkLocal #Conrads816 #Stables816 #True816 #TapChat
Salad:
Roasted Root Vegetables Served with Warm Bacon Vinaigrette Served on a Grilled Endive
(Red beets, Golden beets, Potatoes, Parsnips)
KC BIER CO HEFEWEIZEN 5.2%
Hefeweizen is a pale, hazy, Bavarian-style wheat ale, with bready malt flavors, low bitterness, fruity banana esters, and spicy clove-like phenols, derived entirely from our pure Bavarian yeast strain, and 100% imported German malt and hops.
Appetizer:
Bone Marrow Topped with Pickled Onions and Bacon Marmalade Served with
Grilled Stangenbrot (German Style Baguette)
KC BIER CO HELLES 5.1%
The best-selling and most popular bier in our Bierhalle and Biergarten, Helles Lager is a thirst-quenching, Munich-style golden lager. Decoction mashing brings out a rich, malty character not found in other domestic golden lagers, with full, round, biscuit and honey malt flavors, delicate bitterness and a crisp, clean finish.
Entrée:
Sauerbraten Beef short ribs
Parmesan potato latkes, Roasted Brussel Sprouts
KC BIER CO DUNKEL 5.1%
The German word for "dark," Dunkel is a traditional brown lager that was the most widely drank beer in Bavaria at the turn of the 20th Century. Our Dunkel is a medium-bodied Munich-style brown lager with low bitterness and rich malt flavors of caramel and toasted bread crust. It's the bier that made us Kansas City's largest locally-owned brewery. Its drinkability, rich flavors and smooth finish continue to surprise and win new fans, changing the perception of many who swore they'd never enjoy a dark bier.
Dessert:
Almond Cherry Soufflé with German Chocolate Sauce
KC BIER CO BOURBON BARREL UBER-FEST 10%
A big, boozy, double-strength version of our Festbier, this amber doppelbock lager is brewed with 100% imported German malt and hops. Über-Fest is smooth and clean and rich biscuit malt flavors, while aging in bourbon barrels adds warming alcohols and a touch of oak.