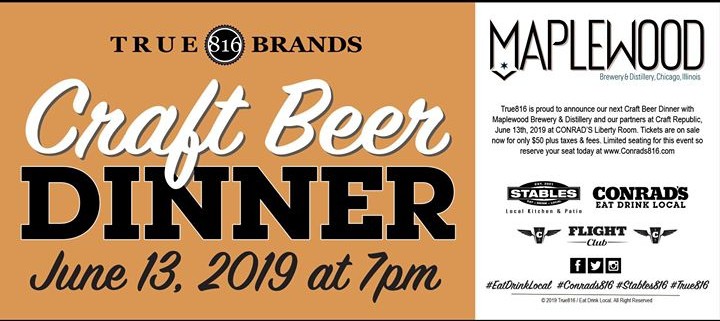 True816 is proud to announce our next Craft Beer Dinner with
Maplewood Brewery & Distillery and our partners at Craft Republic, June 13th, 2019 at CONRAD'S Liberty Room. Tickets are on sale now for only $50 plus taxes & fees. Limited seating for this event so reserve your seat today at www.Conrads816.com UPDATED! MENU BELOW!!
Welcome Beer
Mega Dry Brut Rose` 7.5%
The rosé variant on our Mega Dry series focuses on the red wine notes imparted from the addition of black currant juxtaposed with the white wine notes from a dry hop of Nelson Sauvin and some Galaxy terps
Starter
Seared Sea Scallops
Pickled Watermelon Heirloom Tomatoes and Candied Jalapenos Topped With a Spiced Mint Champagne Butter Sauce
Mr. Shakey W/Strawberry 7.5%
A milkshake IPA brewed with hundreds of pounds of fresh strawberry puree and vanilla beans. Lactose (milk sugar) and oats are used to develop a thick 'n rich body. We finish this delicious treat with a heavy dry hop of Belma hops to add even more strawberry depth
Salad
Arugula and Spinach
Roasted Cherries, Fried Shallots, Spiced Pecans, Parmesan Twills, Candied Oranges, Tossed in a Citrus Rye vinaigrette
SON OF JUICE IPA 6.3%
Bursting with notes of tropical fruit, Son of Juice features loads of Mosaic, Simcoe and Nugget hops. Pilsner malt and oats lend to a soft body and touch of haze, making for a juicy, low-bitter IPA
Entrée
Pan Fried Pheasant
Blackberry Demi, Parsnip Puree, Roasted Brocolini
PULASKI PILS 5.1%
Balanced. Rich Grain. Floral Finish.
Chicago celebrates the life of Casimir Pulaski and so do we! This Chicago-style Pils was brewed with Pilsner and Vienna malt which results in a rich malty flavor. We add Santiam hops which possess both European and American lineage for floral notes and a bit of spice. Together these ingredients create an exceedingly drinkable and balanced pilsner, properly lagered for your pleasure.
Dessert
Tired Chocolate Mousse Cake
Raspberry puree, Crème an Glace, topped with Chocolate nibs
Fat Pug Nitro Milk Stout 5.6%
With welcoming notes of dark chocolate and coffee, this Oatmeal Milk Stout combines a variety of roasted grains to produce a complex yet mellow flavor. Fat Pug is rounded out with sweetness provided by lactose and is named in honor of our brewer Adam's pug, Otto.