CONRAD'S Restaurant & Alehouse | True816 Brands – Eat Drink Local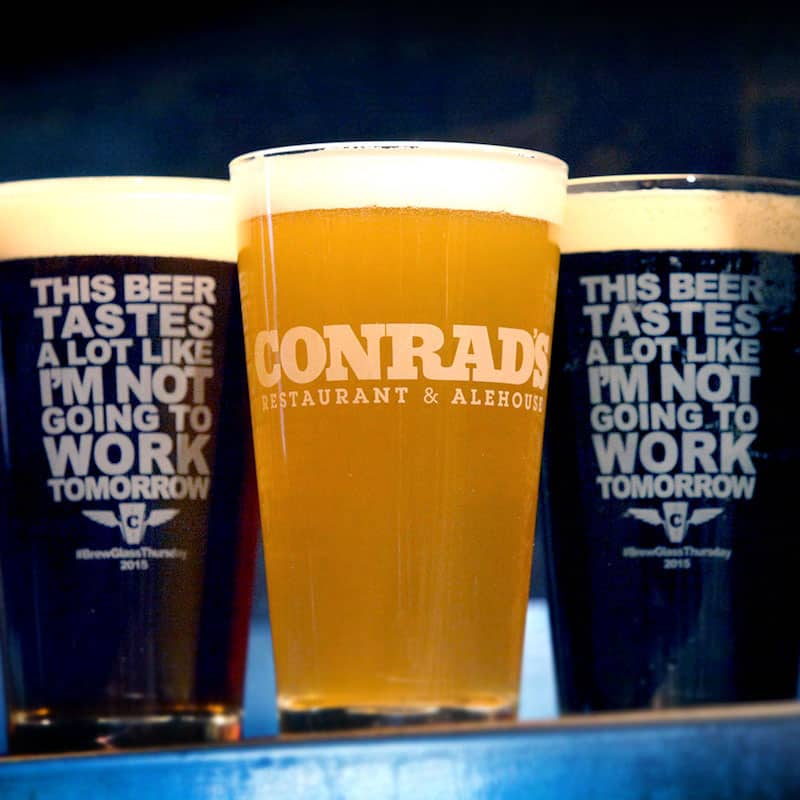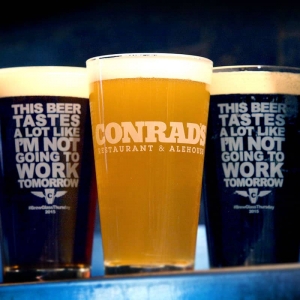 We are making some changes that we feel better fit our brand and our business.
Starting in January, we will be changing our hours of operation and continue to be the place where "good people get together" and offer an atmosphere where people can relax & enjoy conversation, good food, great cocktails, wine and a wonderful craft beer selection.
We will be looking at ways to market and increase usage of our Private Event spaces, The Liberty Room and The Community Room. Since spaces like this are in demand and very limited. It gives us an opportunity to offer even more to our local communities.
We are also looking to repurpose our golf area. We will be taking out the Golf Sim and creating a dining area that will encompass a twenty-top table that can be reserved for a two-three-hour period. We will be trying to come up with a name for this space so we can market it directly. We are hoping that this may make things easier for the large groups that we get. We are the place people get together…
Fridays & Saturdays we will start closing at midnight and keeping our kitchen open till 11pm with a full menu. This will allow us to turn up our in-house music that lends itself better to our existing demographic. We will no longer offer a DJ to entertain our guests and our entertainment will be based on our food, drinks, staff and casual atmosphere.
We will also be looking to offer event driven activities. Such as; Quarterly Beer Dinners, Wine Tastings, Whiskey Tastings, BrewGlass Thursdays, Wednesday Trivia, as well as, Philanthropic activities to continue to offer something positive to our community.
We will be looking to expand our drink menu and expand our wine options, while continuing to offer a wonderful craft beer selection.
Sundays, we will start opening at 11am and no longer offer "Brunch". We are looking at offering a Home-Style Fried Chicken to drive lunch and early dinner sales. We will close the kitchen at 8pm and the business at 9pm. This transition away from brunch will allow us to stay closer to who & what we are.
MISSION STATEMENT
True816 mission is, to consistently surpass the expectations of our guests through quality of food, drinks and customer service in a safe and comfortable atmosphere that is a contributing and supportive member of the community. EAT DRINK LOCAL…
OUR PHILOSOPHIES
True816 success depends on our people. Our business can only prosper when we continually improve ourselves and the work we do. We realize that success cannot only be measured by sales and numbers alone. We believe that a commitment to values and integrity should always guide our decisions and actions as we pursue our goals. The following are the core values that form the foundation of our measurement of success:
• We believe in providing exceptional customer service. Our goal is to meet or exceed EVERY customer's expectations, EVERY time. We want our customers to receive personal care and attention that they tell stories about.
• We believe that good isn't good enough. We never stop trying to do it better. We are constantly striving to "raise the bar."
• We believe in honesty and trust. We work to build trust with our customers in each and every transaction. We recognize that honesty and trust form a bond that holds organizations and relationships together.
• We believe in ongoing training and development of our staff. We see this as an investment in the future of our business, and as a way of enabling our staff to achieve their potential.
• We believe in the importance of teamwork. We know that the success of our business is only as strong as our weakest link.
• We believe in a clean and orderly restaurant.
• We believe in a safe and comfortable atmosphere for our guests and employees.
• We believe in being professional at all times. We expect your focus to remain on the job while you are here.
• We believe in being responsible to others and to ourselves. We believe in personal accountability.
• We believe in being a good neighbor in the community. We will be a contributing and supportive member of the community through good business practices and our mission of charitable giving.
Our staff is one of our most important aspects of our brand. Management will continue to try and increase our strength in all areas of our operation. This will be done with on-going training and coaching. We ask that everyone do what they can to gain more knowledge about our brand and its operations. As professionals, it is important that you understand all of the products we serve AND understand the manner we expect it to be served. It is also extremely important that we push for better teamwork in all aspects of our operation. Helping each other, whether it is back-of-house getting tickets out or front-of-house bussing each other's tables. Do what needs to be done. Our goal is to make our customers experience positive. Always remember without our customers, we cease to exist. Therefore, they are in essence the ones that sign our checks…
We are looking forward to a successful 2018. We are excited to continue to work together with our staff (work family) to provide our community a place where people get together and enjoy their experience. We want them to be able to tell positive stories about us and their time at CONRAD'S. Thank you for everything that you do and thank you for being a part of this…
– Shawn Barber